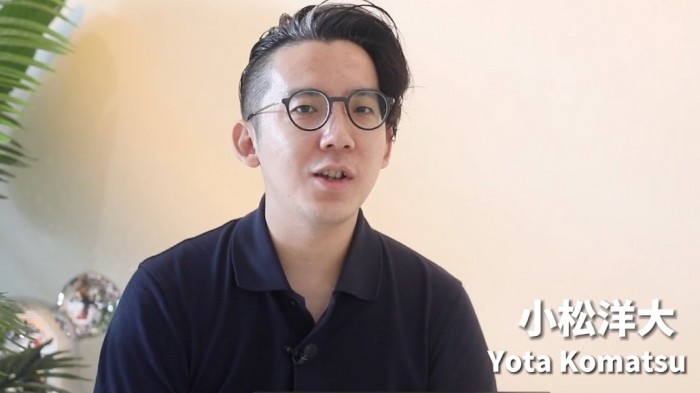 What's the first image that comes to your mind while hearing this rhythmic percussion of bamboo clappers and the fluent Chinese monologue? A skilled senior Chinese artist performing some kind of traditional folk art? But what if I told you that the performer is actually a young man from Japan who came to China more than ten years ago? Actually in recent years, there are more and more foreign friends becoming good at playing various kinds of traditional Chinese performing arts. From Dashan, a Canadian who has performed cross talk on China's biggest gala show-the Spring Festival Gala, to the witty foreign hosts appearing on China's major radio and television channels, they can express their sense of humor in Chinese quite well and serveas a bridge to build up cultural links between people from China and their home countries.

The main character of our story today, Yota Komatsu from Japan, is one of them and he goes deep into Chinese tradition and Beijing lifestyle thanks to an encounter with a traditional Chinese art form called clapper talk.
Yota Komatsu was born in Yokohama, Japan. In his first year of high school, he started to learn Chinese, or to be specific,the vintage Beijing-flavored mandarin and the culture carried by the language..
Yota Komatsu: My teacher was a native Beijinger. In his classes, I've learnt a lot of stories about Beijing in the old days. Then, I gradually fell in love with this city.
In 2010, Komatsu decided to come to study in Beijing. He still remembers it was in his dorm room at Beijing Foreign Studies University, that he happened to see a clapper talk performance on TV and was hit at once.
Clapper Talk or Chinese Kuaibanr(快板儿) is a kind of rhythmic talk or monologue to the accomplishment of specially made bamboo clappers. Characterized by the free style, lively language and simple rhythm, Kuaibanr is quite popular across the country.
This rhythmic Chinese art reminded Komatsu of the drums he had learned to play from an early age and became his "drum beat" in China.
Yota Komatsu:I learn Chinese cross talk with Mr. Ding Guangquan. And Mr. Yao Fushan teaches me Chinese clapper talk. Mr. Yao used to tell me, "The clapper talk is difficult. If you sing it well, it's your success; If you don't sing it well, you are the person to feel embarrassed." Therefore, I felt great pressure when giving performances. I remembered once I performed in Taoranting Park. There was a clapper talk salon . I forgot my lines during the performance. And my teacher was there that day. He said bluntly to me "You should have practiced it!" His words made me feel embarrassed.
With his own pursuit of excellence and the strict requirements of his teachers, Komatsu went through a long period of study in both cross talk and clapper talk. The ideal venue for him is the parks, in which people come and go, and only outstanding skills can make them stop for a while.
Thanks to the clapper talk, Komatsu met many foreigners who shared the same passion on Chinese culture and traditional art.
However, the outbreak of Covid-19 suddenly put Komatsu's life on hold as there were less and less opportunities for live performance.
Yota Komatsu:Before the epidemic, there were many opportunities to perform on the stage. Then it came, the opportunities became much fewer, which discouraged me to practice the clapper talk. Sometimes I even think "I won't be able to go on the stage any sooner, why practice?" But I know I shouldn't think that way, I need to keep practicing the skill.
Nevertheless, in a new normal life with epidemic in this city Komatsu unexpectedly gained another experience that makes him feel full of human touch.
Yota Komatsu:When the pandemic first broke out, people from my neighborhood always said to me 'if you need any help, just let us know!' When my community locked down in May this year, I went downstairs every day to do the nucleic acid test. Every time I went down, the community workers would kindly say to me "Hi, It's you! Come here and have the test!" I like the small conversation with local people, making me feel that someone is caring about me. They always remembered me, and I was so touched by this.
The main reason of his affection for China, as he explained, is the unique human kindness he finds in local people.
Yota Komatsu:Why do I always feel that China is good? It's all about the human interest, very strong sense of sympathy, caring and friendliness from the people. It may be that …Each country has its own personality. The Japanese are always busy with their own business, but in China, especially in Beijing, no matter where you go, you'll feel a strong sense of human touch.
Komatsu has stayed in Beijing for more than ten years, during which he returned to Japan several times but eventually he chose to live in Beijing. Because, although Japan is his hometown, he always feels that something is missing after leaving Beijing.
Now, Komatsu is very happy with his life in the Chinese capital. He practices clapper talk every day, teaches Japanese to Chinese learners, and meets with friends regularly.
Yota Komatsu:I really hope that everything can go back to normal, because now the audiences need to wear masks during the performance. When I observe them from the stage, I wonder, "Are they laughing or not? Do they enjoy the show?" If you compare it to the days when there was no epidemic, the difference is obvious. So, I really hope the pandemic ends soon.