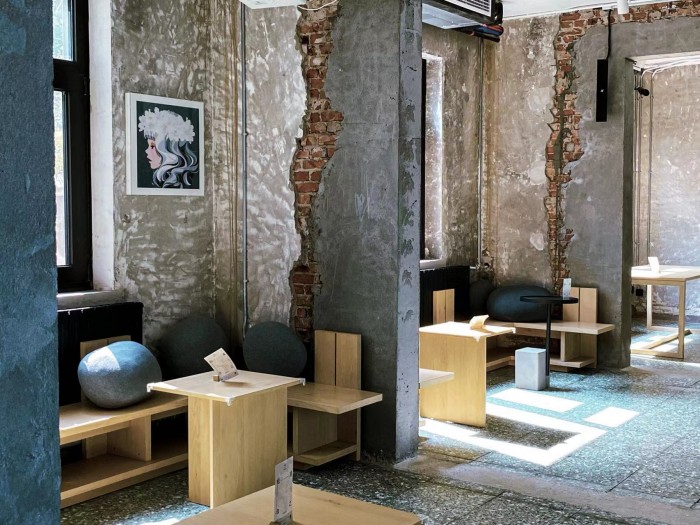 The sound of guitars, drums, and singing emanated from the east side of the 798 art Park, reflecting the late summer evening in Beijing. You get a little puzzled and wonder is there a new livehouse or a jazz bar? Follow the music, and then you will see a gray building with simple decoration. What you smell is not alcohol but the aroma of coffee.
Walking to Ouran Coffee (偶然咖啡) , but unlike other cafes, the owner here will not come out to greet you. She is the same as you, a guest, sitting in her booth, busy with her own business. Sami Wong, 41 years old, Australian, is a Psychological Researcher, psychotherapist, interpretor and translator, and of course, the cafe manager. She shares this cafe space with you equally, and all the emotions and peace it brings.
According to Sami, Ouran cafe is an unique space of "trinity", integrating art, catering, and office.
Sami:This A26 space is actually very well integrated. We also have our own yard, so it has a sense of being in a class of our own. We hope that we can find a place where we can be more at peace with ourselves in such a busy pace of life, like essential peace.
Ouran has been operating over the past few years in Beijing. It's not just a café, it's also a creative space that focuses on art and music. Therefore, it have regular art exhibitions, as well as panel discussions with artists. "Finding one's essential peace in a fast pace modern life", This is an important purpose of Sami's coffee shop, and it is also the reason why sami, as a psychological researcher, loves the coffee industry.
Ouran is not Sami's first coffee shop. Running a coffee shop as a job was not a whim, either. Sami had moved to Melbourne with her God Parents in childhood, and had the very first taste of espresso from her Italian God father when she was 14. In little Sami's world, having a cup of coffee is a ritual before leaving for work in the morning. Since young, coffee has become a must in her life and a cultural bonding between she and her God Parents .
Sami:In fact, coffee culture has been a very important part of my life since I was very young, a cup of coffee is like the kick start of the day.
Ten years ago, Sami came to Beijing and was attracted by the living ambience and the way people interact with each other, eventually she decided to settle here. But soon, as a coffee lover, she found that there was few spacialty coffee shops but all commercial ones. Neither for money nor fame, Sami started to run her own cafe for very plain reasons: a cup of really good coffee and a Sami-friendly place to work. Sami is most impressed by the hutongs in Beijing. So Sami's first coffee shop was set in Banchang Hutong near Nanluoguxiang.

Sami:It seems to be cluttered but also very orderly, and then, the whole atmosphere of life made me feel like I wasn't in a typically busy modern city.
The aborigines who speak the Beijing accent, the intertwined old trees, and the buildings with distinctive styles facinated sami who are tired of urban life in various countries. In Hutong people live together as an organic community. Similar to the gameplay of Majong, a Chinese traditional board game, life in Hutong seems random and orderless, but it creates peace in noise and disturbance, and an order from chaos. It's all about the philosophy of people.

In Ouran Cafe, her second shop, Sami has integrated her own aesthetics, personality and experience in the hutong into her management. She believes that the most important thing for a cafe is to provide a space, where people have ideas and relations. "relations", she said, "but not just connections". There are many unique and magical moments happenning in a cafe, when people encouter and create life-lasting memory. Her cafe is also an excellent observation field for her psychology research.
Sami:There are some special relationships built in the cafe. When you may have a moment of meeting someone in the cafe, you may not really meet them again, but you will have a very long lasting relationship with the memory or the person.
Sami:I was mostly impressed by the fact that I actually met some people over there that wouldn't be expected to happen at all. An ideal Cafe is like a container, according to sami, it's all about what you put into it. her slogan says it all: let's fix you a cup of coffee,it's never just about coffee.
Through a decade, Sami has grown with Beijing. In Sami's opinion, Beijing is a beautiful city that has a very well balanced combination of modernity and tradition, and she is still amazed by its development for now. Sami has long regarded herself as a member of Beijing. She feels that Beijing has a simple but authentic quality: she adheres to its own city character, and treats all visitors fairly, which makes its unparalleled inclusiveness.
Beijing is also a container, and is never just about a city. It's all about culture, bonding, and people, just like her lovely cafe.
(Special thanks to Daniel Chang for helping us contact Sami)