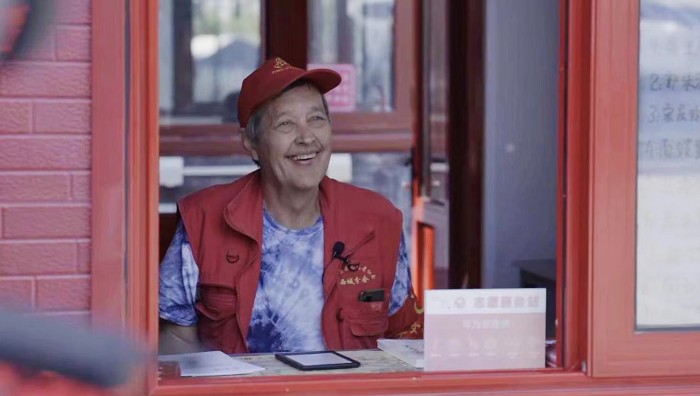 [soundbite]
Hello!Where is the neighborhood committee?
Walk ahead and it's on your left.
[Anchor] The ShiChahai area in Beijing's Xicheng District is a famous scenic spot that draws tourists from worldwide every year. More than scenery, you may come across with a group of volunteers, greeting you warmly and friendly. Most of them are retired women wearing their symbolic uniforms - red armbands, red hats and red waistcoats. They are lovingly called 'Xicheng DAMA', which means 'aunts' in Xicheng District.
However, here is an exception as you may have noticed in the soundbites before- they have a really cool MAN who join in the DAMA team to become a volunteer of the community. He is TERRY CROSSMAN, an American that has been living in Beijing for nearly 3 decades.
Terry: My name is Terry, Terry Crossman. I come from America. I have been in Beijing for 27 years. When I first came to Beijing in 1995, I was a senior talent consultant in the headhunting field. I used to live in Shunyi District, suburb of Beijing. In 2011, I moved into hutongs in Dongcheng District, then to Shichahai area, which happened around six or seven years ago.
[Anchor]Terry is retired now. As having spent most working time in Beijing and living time around Shichahai area, Terry can speak fluent Chinese, even with some kind of Beijing accent and get well familiar with the communities around here. Being part of Xicheng DAMA makes his retirement life busy but happy. When talking about the experience to meet and join the volunteer group, Terry said it's both unexpected and reasonable, kind of yuanfen, the destiny.
Terry: It's unexpected for me to become a volunteer in Shichahai area, I mean, it's a coincidence. In 2016, a stroke accidentally hit me, which caused the dysfunction of my left leg. To recover faster, I kept on exercising by walking around the Lotus Market on crutches. I always met with batches of volunteers, working in volunteer kiosk[MOU1] , and gradually I got familiar with them. They told me that I was the one qualified to the volunteer job, (as I'm) willing to help people.
[soundbite]
Hey! Do you know where the Gate 17 is?
Go that way
[Anchor] Terry's voluntary service has brought him popularity as tourists from home and abroad would ask for taking photos with him and later, his story aroused the interest from media, making him well-known in the Shichahai neighborhood.
Terry: Some pedicab drivers always introduces me to tourists. They said, "Hey Look, this Laowai is a volunteer in Shichahai area. He is an internet celebrity." I think it's interesting.I am keen on doing something special. It is quite unique for a foreigner to wear the costume this, red vest, red armband, red hat. Actually, whenever I put on this uniform, I will pay more attention to the potential risks on streets. I think it's really kind of willingness to serve the people wholeheartedly.
[Anchor] In 2011, Terry moved into hutongs from suburbs. Although located in downtown, hutongs present a distinct world, which makes a contrary to the hustles and bustles outside the small alleys. A great number of traditional Beijing quadrangles have been well preserved here. Terry says he feels like traveling through the history and living as the old Beijinger. In his opinion, JIEDIQI, which means 'keep the common touch' in English, is the most appropriate word to summarize hutongs' feature.
Terry: I really love hutongs, love Beijingers and also my ordinary life. Where I live now is relatively close to the nature. I enjoy bird singing when waking up in the morning. Actually, another reason why I love hutongs is pigeons raised by residents here. Looking at them to flutter in and out, how interesting! I think it's rare and nice to have such a chance to commute with nature, especially when you live downtown. I don't like the skyscrapers. I like JIEDIQI.
[Anchor] Now Terry's life is very Hutong style, as his Chinese friends see him "a real Beijing man". As having studied the Taoism in his early years, Terry finally found the best retirement life - free, peaceful and fulfilling. He is keen on cultivating green vegetables and colorful flowers, also taking photos to record life.
Terry: Actually, there is nothing special between my retirement life and others here. I like planting, and take care of both loofah and pumpkin I planted. I also love photography. Early in the morning, I stroll along Shichahai, and take photos of special wild birds and newly-bloomed flowers. Beautiful town greenery and pleasant environment, that's also kind of reasons why I love Beijing.
[Anchor] Terry records life in hutongs not only by camera, also by heart. He is the person who has witnessed the changes taking place in the small alleys. With the rapid development of city, problems in hutongs unfolded, such as the narrow passage, traffic congestion and disrepaired infrastructure. In order to protect the city's unique culture and tradition as well as improving the living conditions in hutongs, the city government started the renovation projects several years ago, bringing new life to the hutongs and people living here.
Terry: Life in hutongs now is far better than that before. Private toilets have been well equipped, and residents need no more to suffer chilliness to get to the public restrooms. It's also more convenient for them to get power supply and heating system. In fact, several messy and crowded old hutongs still exist in downtown Beijing, but less and less found, because the local government makes great efforts to beautify them.
Terry: I love Beijing very much! Beijing Is My Home!