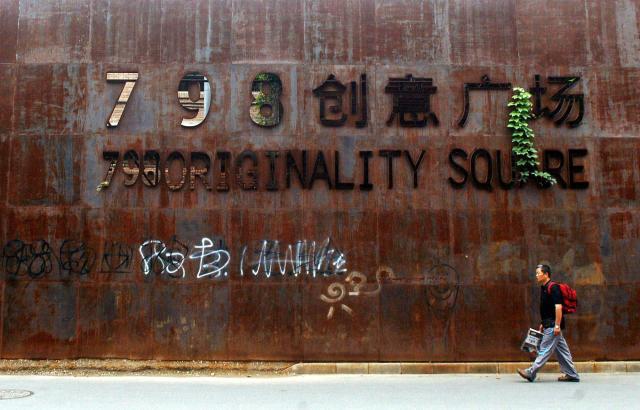 Dr. Harvey Dzodin, the former vice president of ABC television, advisor to Jimmy Carter during Jimmy Carter's administration, and employee of the United Nations office in Vienna, Austria…… he used to live and work in different countries. Despite all his grand titles, he seems to be always on the road, searching for a true passion, until Beijing becomes home to stay.
Harvey: I could live anywhere in the world I think, and I've chosen Beijing because it's interesting. It's changed a lot since I first came here, and it continues to evolve, so that's part of the excitement to see Beijing grow.
Harvey first came to Beijing as a tourist in 1988, he came back in 2004 and has been living in the city ever since. Beijing impressed Harvey with vigor and vitality, and shocked him by its rapid development.
Harvey: I came here as a tourist in 1988. The difference between 1988 and 2004 when I came back, was a difference of centuries. China and Beijing had grown enormously from this ancient city in many ways to a modern city in the making. It was during the heyday of construction for the 2008 Olympics, and there were many things going up. Now many Chinese cities are on a tier of development and growing up, and I would like to say that these Chinese cities have gone from ugly ducklings to beautiful Swans. They've all grown up and they're all beautiful and I think this is the China speed, China pace, and we can see it with our own eyes and it continues to happen. And I think it's an amazing feat that has not occurred at this speed anywhere else in the world.
Harvey is really fond of the seemingly impossible change. As for him, Beijing is always on the road to enhancement, and his life here has become a journey full of surprises and growth. Now Harvey's becoming more familiar with and more fascinated by China, which he describes as "interesting" and "diverse".
Harvey: I think it's been a wonderful and continues to be a wonderful journey of fulfillment and also of learning and also of achievement. But I also think it's true that they say that the longer you live in China, the less you feel you know, because you can appreciate the complexities of China. It's so different than the West and so every day brings another revelation and I like that because it makes life more interesting, more challenging and more fun.
Harvey enjoys a colorful life here in the Chinese capital. He likes to visit art exhibitions, especially in the 798 Art District, which owns over 400 various arts and cultural studios. This once again confirms his love for diversity and development.
Harvey: One of the things I really like about Beijing and can't imagine without it is the art scene in Beijing. We are blessed to have a very rich art scene. I like, for instance, going to the art district called 798. It's full of art galleries, but not only art galleries. Since it opened some decade and a half or so, it's become more diversified. There are not only art galleries; there are also design shops; there are design offices; there are advertising and marketing and media offices, so it's a very mixed place. And I know a lot of art purists and artists sometimes speak negatively of 798, but I don't, because it is richer by having this diversity and I go there because I like that diversity.
Harvey: When I came in 1988, that at least for foreigners there was very little art scene, so what culture there was historic and was traditional. But now there's so much, and you have one of the world's great performing arts center near the Forbidden City, the National Center for Performing Arts.
Beijing is a city with profound historical and cultural heritages, and Chinese history has left countless development marks for the capital. In Harvey's words, Beijing is full of treasures to come across.
Harvey: I remember when I went to London to study at London School of Economics. Some of the Americans said to me, because we had a few weeks before class started, 'oh there's nothing to do here except watch television'. Well London you know it's one of the great cities of the world, and if anything, they have an overabundance of culture. But here there were people who found nothing to do. And so in Beijing, you gotta be out of your mind if you don't just open your eyes. And take a few steps you'll bump into culture or it'll bump into you. So this is one of the things I love.
Among various heritages in Beijing, Harvey showed a preference to the Forbidden City, which is also evolving to become better.
Harvey: And speaking about the Forbidden City, when I first came here, the Forbidden City was really old, dusty and musty, but now it is definitely one of the world's great museum complexes. It does just about everything right. It's opened up more space that was previously closed. It's made itself more accessible not only to everyday people, but to people with disabilities. It's gotten with the program to do wonderful marketing from lipstick to fashion to accessories, and able to build a budget which is worthy of a museum like that. So it is like Beijing, just going from strength to strength. And I dare say that one could probably spend a whole week in the Forbidden City and not see all of it.
Harvey chimes in with the can-do country easily, for they're always moving forward. And Harvey is confident that China will have bright prospects.
Harvey: China with it goes a growing appreciation for not only its rich past and its prosperous present, but for a promising future as well. And I think China is well on the road and Chinese people have every right to be proud.