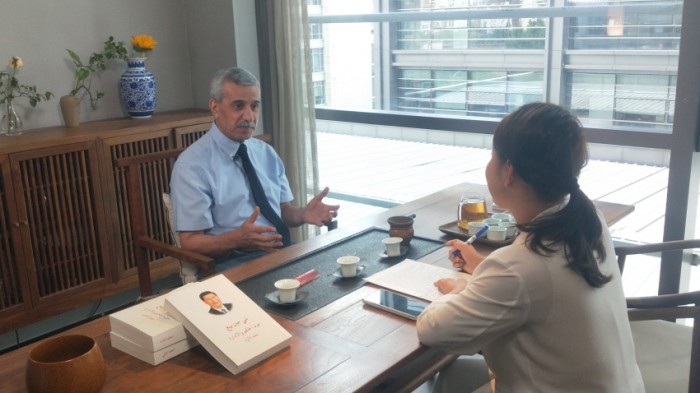 Translation, as we know, is a fundamental part of communication and consensus building between different cultures. Thus, translators are often seen as the bridge connecting people from various cultural backgrounds. Today, we'll listen to the story of a famous translator from Iraq: Abbas.
After living in Beijing for almost 25 years, Abbas called himself a "China hand", dedicating to introducing China to the world. In his long career, Abbas has translated so many Chinese classics, such as Romance of the Three Kingdoms. Due to his outstanding contribution to the exchange and mutual learning between Chinese and foreign cultures, he has won the highest foreign-related award in China's publishing industry -- the Special Contribution Award for Chinese Books. And one of the crowning achievements in his career, he says, is the translation of the first three volumes of Xi Jinping:The Governance of China.
Abbas:My name is Abbas Jawad Kdaimy. I am from Iraq. I lived there and work in Beijing for almost 25 years with my family. We are happy in Beijing, and we feel Beijing is our 2nd home. And I have the honor to take part in the translation of President Xi's books of The Governance of China.
Abbas put much energy on this translation project and made every effort to ensure the high quality of the output. During this process, he gained a clearer idea about the thoughts and proposals of Chinese leaders, the path China has chosen and the direction of China's development.
Abbas:The three volumes are very important. China, in the last two decades was a successful story. Arabic friends they all ask me about the reason behind China's successful economic development. The most important things, and the most direct channel could be these books. So everyone wants to know more about China should read these books.
While translating these volumes, Abbas gained a deeper understanding of what the socialism with Chinese characteristics means. For example, he finds that Beijing's pursuit of high-quality development is indeed a response to the real needs of its people.
Abbas:Before I have a look, and have a chance to read these three books in there, I don't know what is the Chinese characteristics. I don't know what it means, the socialism with Chinese characteristics. So it means that we work according our circumstances. We should be realistic. We can make Beijing beautiful city. President Xi calls repeatedly about high quality development, about environment protection, about high valued service. Because now China is changing for better. The society is changing for better. So Chinese people are looking for better services, better life, better cultural,awareness. They have the public opinions. The government is listening to people. The government is listening to the people's demands. There should be changes in Beijing.
He also finds that there have been many changes in Beijing when the city is pursuing a high-quality development as emphasized greatly in the volumes, such as the relocation of wholesale markets to the outskirt of the city that happened years ago.
Abbas:there are many changes in Beijing, for example, the big markets are relocated outside the downtown. More than ten years ago, if you go to downtown, you feel very high traffic jam. It's not only pollution, it is also noise pollution. So people need a new life, a new fresh air. So the Beijing local government, in cooperation with the central government, they have clean projects for Beijing. No pollution, no road congestion and no noise and should be free roads, clean air. This cannot be achieved without relocating some big shops, especially the wholesale shops, clothes, vegetables, no markets. So they are outside Beijing now in the suburbs.
Another good example of Beijing's high quality development can been seen in the city's full support to the high-tech industries.
Abbas:President Xi puts very high importance about the high quality development. This cannot be achieved by numbers, no, by quality. So Beijing now is getting more about service sector, high tech sectors, more spaces for the new start- ups. Beijing now is going towards internet service and science and technology. So science and technology, IT and five generations are everywhere. Because now China wants the development should be driven by innovation.
During his years in Beijing, Abbas has witnessed the city's development and changes in line with local residents' pursuit for better environment and a happier life.
Abbas:I tell you, when I came to Beijing, 25 years ago, Beijing was like a building site, everywhere construction. Buildings go up and up, the skyscrapers. It is great to have this kind of buildings, this kind of construction. We need a new construction, bridges, roads, buildings… But there was a price, the pollution. So the capital, Beijing now is focusing on the new service. This is the reason why we saw a lot of changes in the Chinese capital and I do support this kind of environmental protection.
Actually, not only Abbas himself, but his whole family have a deep attachment to Beijing and are firmly committed to staying in this city for a longer time. The things that keep them here, as he says, are not just the improving living environment, but also the people in Beijing, who treat them with an inclusive, warm and friendly attitude.
Abbas:All the family loves Beijing. We are here for 24 years, otherwise we should leave. But we love China. We love Chinese people. We love Chinese people. People is more important than the place. We find the food, the Muslim food, the good environment, stable environment. And Chinese people are very supportive to me. So for sure, we wants to stay here, to continue life here with Chinese people.