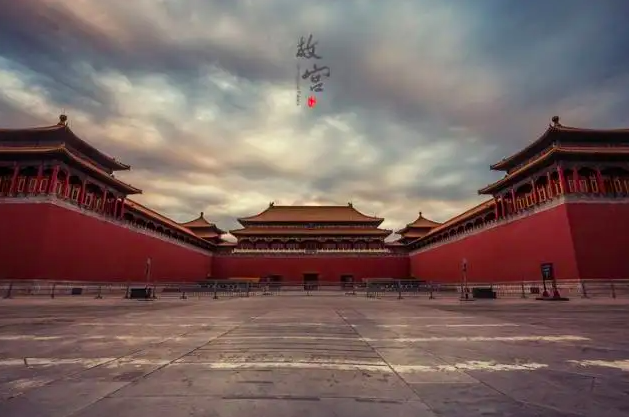 The Forbidden City, as the famous symbol of China, has welcomed more than 400 million people from all over the world. Before COVID-19 broke out, 1.06 million foreign visitors came to visit it in 2019, accounting for 5% of the annual visitors in the world. For Alistair Michie, currently Secretary General of the British East Asia Council, this majestic palace was his first stop in China after arriving thirty-four years ago.
Michie was typical of a British person and knew nothing about China before his first visit. But by chance, he came into contact with many Chinese colleagues while helping develop the franchise for Standard Chartered Bank in Malaysia and Vietnam.
Michie:They said if you're interested in what we're doing here, you really ought to pay attention to China.
A strong curiosity drove him to ask the bank's board for a six-month assignment in China. Even now, he could remember vividly that the first stop arranged for him by the receptionist out of Beijing airport was the Forbidden City. The encounter with the palace sparked his curiosity about the Asian country and its culture, which made him like he said "a perpetual student of China.
Michie:Wow, what is this, it's just amazing, it's so big. Who built this, why, how, where and that was really a transformative visit. I was lucky, it was wonderful, and it really has changed my life.
With the Forbidden City as his starting point, over the past 3 decades, he began his journey through China, travelling to more than thirty provinces and regions and has truly become an observer of the country. Experiencing the vitality of the journey, he found China's infrastructure was improving so much.
Michie:I traveled from Beijing to Tianjin, and I never expected to go on a multi-lane highway, what we would call a multi-way in the UK or an interstate highway in the US, because nothing of what I'd ever seen or read about China prepared me for that infrastructure. If you jump to today, the thing that I think is not well understood outside China is how China has created the most advanced infrastructure system in the world, by far.
Michie also mentioned that China laid down a broadband network long before smartphones became popular in the 1990s, which greatly helped China enter the digital age. The advanced airport system made him feel surprised as well.
Michie:You know, how you can connect between an airport into the metro system comfortably, you can connect into the high-speed rail system, and you can connect into the interprovincial road system.
In Beijing, the magnificent city with the longest and greatest north-south central axis in the world, Michie felt the charm of Chinese culture. Over two decades, he's been committed to building a global understanding of China and trying to promote exchanges and partnerships between China and the world.
On December 5, 2012, Michie was invited to a symposium hosted by President Xi Jinpin for foreign experts in China to solicit their ideas on the modernization of the country. He was the first British foreign expert representative to attend the symposium.
Michie:I was very lucky because what he said at that meeting has been hugely important because he said that he wanted to discuss the 18 Congress political report. He said, "I chaired the committee that created this and it took us thousands of hours and thousands of people, and this is my blueprint for the future." If you bother to read his speeches over the next five years, he continually back referred to the 18 Congress, blueprint and that. Here's smart thinking. If you're a leadership of China, what you do is you get foreigners who are prepared to do it for free to pull the best thinking, on certain subjects in the world, and then you can look over it and say well we can maybe learn from this, take a bit of this, take a bit of that and then form our own policy. No other government in the world is doing this kind of thinking, and to me it's just rational obvious way.
In 2013, Michie was awarded the Chinese government's "Friendship Award" in recognition of his outstanding contribution and 'genuine friendship to the Chinese people.
In April 2014, together with Ron Dennis, then British Ambassador of Business, he joined forces with a group of British business leaders who were interested in the development of UK-China relations and launched the British East Asia Council. It's dedicated to promoting UK-China public diplomacy. Michie was appointed as the Secretary General.
Michie:The inspiration for creating it came from Japan. There are multiple second channels between Japan and China, which is really positive because it builds broader deeper understanding. What we found was that there's very hardly any track two second channels between UK and China. It's all government to government and it means that, there's a gap. The Chinese government has tried to do this to develop a broader linkage through encouraging the people to people dialogue between UK and China, but there could be a much richer exchange between China and UK if there was an appreciation. This is the way that Chinese people think. It also fits what Asian and Chinese thinking is the approach then tends to be one of consensus seeking harmony before you go public.
At the Asian Civilization Dialogue Conference held in Beijing on May 15, 2019, Michie delivered a speech entitled "Asian Solutions for People" at the sub-forum on "Exchange of Experiences in Governance in Asian Countries". He said that the conference in Beijing was of great significance.
Michie:What was encouraging is that Asia according to United Nations' data embraces 60% of the world's population and so he was reaching out to those from Asia that were gathered there so 60% of the population of the world. I think has a consensus that a community of common destiny is a sensible way forward.
Ten years have passed since Michie attended the Foreign Experts Symposium in 2012. The infrastructure of China that once impressed him is being further developed.
Beijing-Tianjin intercity trains have all been replaced with "Fu Xing" trains, which can pass through the two cities in half an hour; 56,000 5G base stations have been built in Beijing, achieving full coverage within the fifth ring road; and Beijing Daxing International Airport has been in operation for three years, striving to become a world-class aviation hub.
This year, the Forbidden City, the starting point of Michie's journey of China, is over 600 years old. Compared with the five millennia of Chinese civilization, the centuries-old Forbidden City still looks young.
Michie:It's got 5000 years of history, it's always had about quarter of the population of the world, I mean how can one person in a lifetime grasp all of that, that comes back to why I call myself a perpetual student because you're never in a lifetime going to be able to grasp it all, and that's as I say it's a feast for somebody who was born with an insatiable curiosity because you're never going to run out of things to explore.